…or, a vision meets reality…
How to plan an overland trip from Munich 2 Munich and what is driving us in doing it? Well the second part is easier answered, it is the passion for traveling, a serious overloading virus infection and the chance of living a dream. More on that, you can also find from the "About us" section.
But how about the first part, how to plan it? There it gets a bit more complicated, in general our aim has been to leave home by car and as we do have a Toyota HZJ78 (you can find more information from the "Our HZJ78" section) it was an easy decision to go by car. For the first part of the journey we had a clear picture rather quickly. With the Pamir Highway on top of the bucket list, enhanced with Mongolia plus the Altai region and Siberia in Russia this has been defined rather quickly. While planning first to leave in direction of Poland and the Baltics, suddenly Iran came into the game and changed the plan again. So assuming we get all the visas sorted, we will leave towards Iran in March 2019, aiming to arrive in Vladivostok around mid October, latest end of October 2019.
The map below should give you an indication, clearly not a 100% track we will follow, but a rough plan. Unfortunately the limited times given by the required visas in some countries, but also the changing weather with incoming winter will drive the available time on the first part of the journey.
How it works in reality? Hm, we will see how it goes from here, currently being in Mongolia (20th August 2019). Long way already with app 31.500 kilometers and lots of interesting things to see.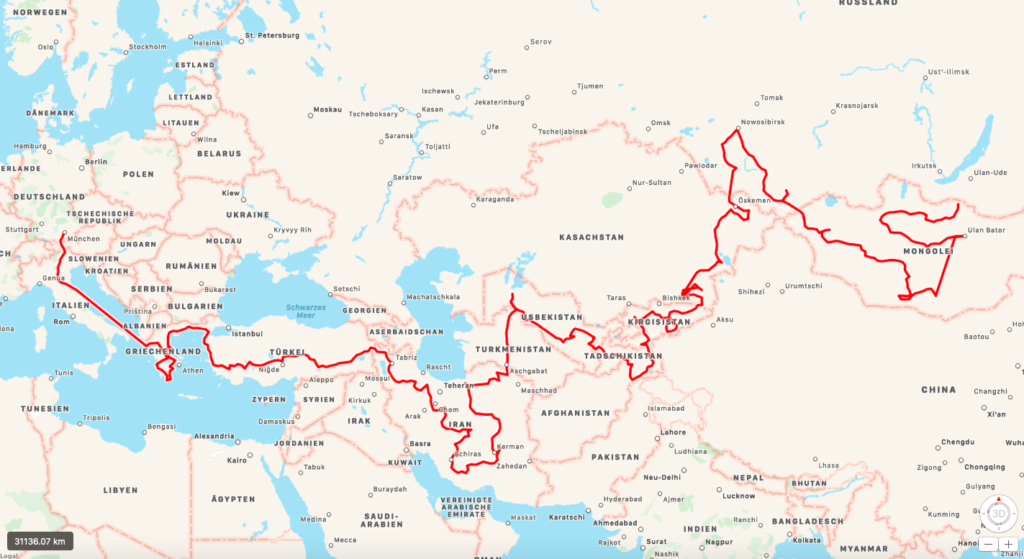 But still a long way ahead of us till Vladivostok and as you maybe remember, it is all about "Munich 2 Munich", so how to get back to Munich? There the plan gets even more rough. At this stage we are planning to ship the car from Vladivostok to North America and move ahead from there. We might spent the winter on Baja California in Mexico or the South of the US, but will be seen. For the time being we are planning to travel 2020 up to Alaska and Northern Canada and then over to the East coast, but again, not much more than a Vision. 🙂
From the East Coast of North America we might either ship the car back to Europe and take a flight there, or we might ship it to Iceland, or me might continue on the Panamericana, or… 🙂 Who knows and clearly too much will happen on the way there, so we will go with the flow and start planning ones we have a clear picture where we are going to ship the car from Vladivostok. But one thing is for sure, you can either follow our blog or follow us on Instagram and you will figure it out what is finally going to happen. 🙂
So how did it work out in reality?
Follow us country by country, either by checking out the country specific pages as a summary…
Kyrgyzstan 2019
Kazachstan 2019
Russia 2019
Mongolia 2019
… to be continued
…or read our regular blog posts to stay tuned.