We are Karin and Christian, currently living our dream, traveling the world in our Toyota Landcruiser HZJ78. Having a passion for travel already for so long, we finally got infected by the overloading virus on a 6,5 months trip from Perth to Sydney in Australia in 2015.
With that experience in the background, we decided to buy a Toyota HZJ78 in Germany and transformed it into a camper, which will be our home for the coming trip around the globe.
The main aim of our blog will be on telling the stories on what happened on our journey(s), but also show the world how we see and experience it. We do hope you will also find some inspiration for own trips, or just enjoy it following us around the globe.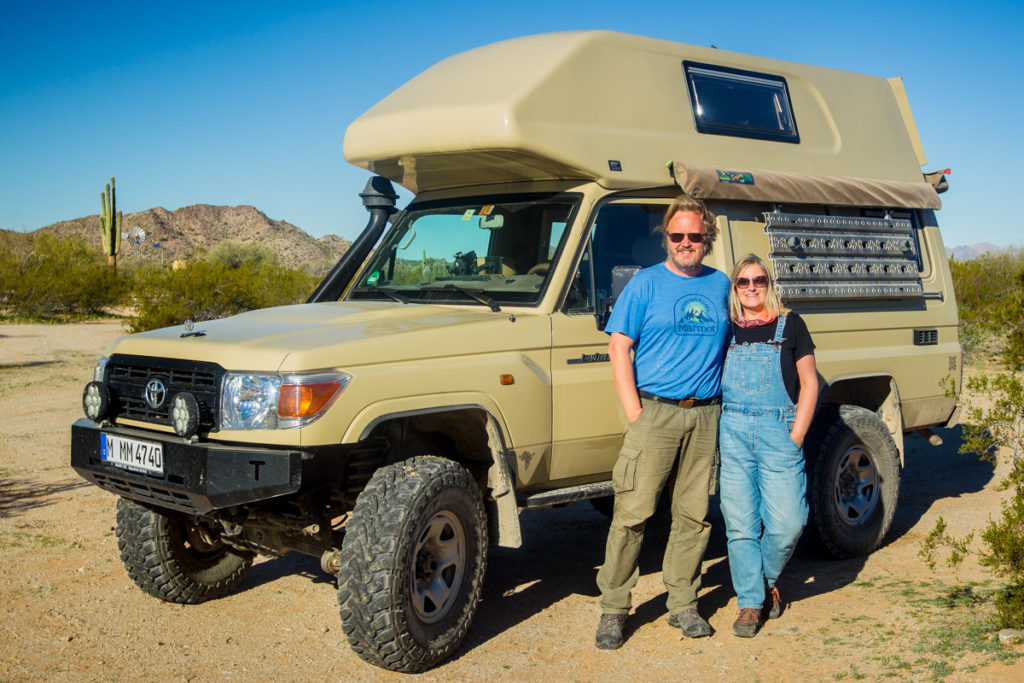 If you like listen to podcasts, we had the pleasure of talking to Lisa & Chris from GHT Overland Podcast in their episodes 101 & 102. So feel free to listen in and to find it easily, here you go the direct link to our GHT Overland Podcast.
And for all German speakers, here you can find an interview with us in German, thanks to Passport-Diary.
But how did it come that far, us traveling the world? Well, already earlier we traveled as much as possible, spending a lot of time in Africa, especially in Namibia, Botswana and Zimbabwe, but also in Uganda. Beside that we had trips to Bolivia, Ecuador, Australia, USA including Alaska, Canada, Iceland, and many places more. As travelling became a passion, also our interest in photography increased which finally also lead to the situation writing a photo blog on our trips.
As it is one of the regular upcoming questions, here an brief overview of our camera equipment we use for our picture. In addition to that, we also use a DJI Mavic Air as a latest addition for aerial pictures and movies. Definitely one of the well worth investments.
– Canon EOS 1D Mark IV
– Canon EOS 7D
– Canon EF 16-35/2.8 L II
– Canon EF 100-400/4.5-5.6 L IS USM
One of the fields of photography that surely will need a lot of improvement and practicing for the future, is the whole field of underwater photography. Another virus we got invected by while traveling in Australia, with a lot of good advice by some Australian guys on Lady Elliot Island.
– Sony RX100 ii
– Patima aluminium housing
– Sea Dragon Duo 5000
– GoPro Hero 4
Somehow even finding the right equipment was also a long journey, but finally we believe we found the right setup for us, but you never know.